Hyatt is a caring hospitality business, especially during the COVID-19 pandemic, impacting all hospitality industries around the world. The impact of coronavirus has forced a number of Hyatt hotels to temporarily suspend operations. These properties have had to temporarily furloughed many staff members and have significantly reduced work schedules for many members of the Hyatt family.
Hyatt is staying grounded to care for guests, their communities, and each other by creating the Hyatt Care Fund. Hyatt properties are putting the well-being of Hyatt Hotel colleagues furloughed, by providing warm meals, toiletries, smoothie kits and groceries.
Launched with initial contributions from the Hyatt Hotels Foundation, the Senior Leadership Team, Chairman of the Board and Board of Directors have reduced their salary. Other donations include from Pritzker family foundations and donations from some Hyatt hotel owners.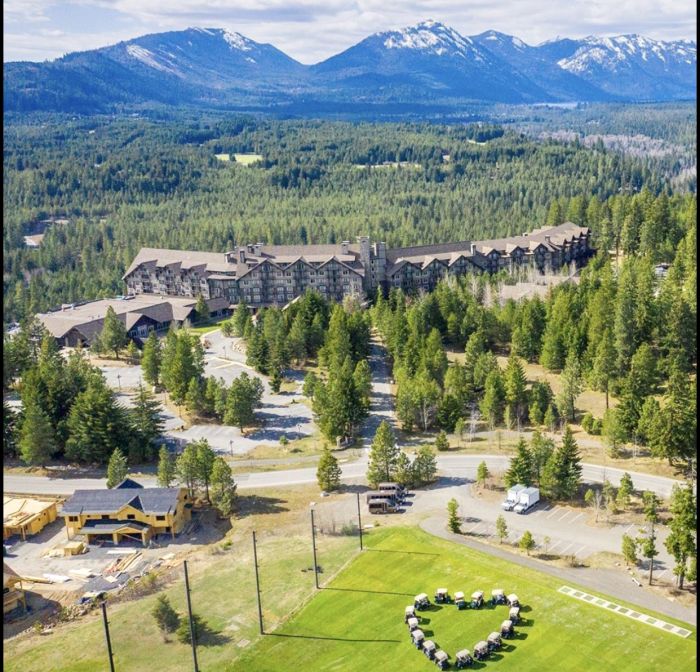 Certain Hyatt Hotels have creatively thanked first responders, Hyatt staff and Hyatt guests. Suncadia Resort in Washington state drove golf carts in the shape of a heart. The image on Instagram was posted as a thank you to first responders and resort employees.
Other Hyatt properties globally have partnered with local organizations to feed communities. Grand Hyatt Kuala Lumpar's hotel culinary team has been preparing freshly cooked meals for Royal Malaysia police and medical workers, including creating a daily food station at the doctors' lounge at Prince Court Medical Centre.
Several Hyatt properties around the globe have arranged to keep their lights on and window shades up to send love to guests, colleagues, the hospitality community and healthcare providers.
The Hyatt Regency Waikiki Beach Resort and Spa strategically lit up 54 rooms across its 30 floors to spell out 'Aloha."
At Hyatt Regency Gurgaon strategically illuminated windows spelled out and spread the positive message "HOPE.'
The Hyatt Regency St. Louis is staying true to their purpose to care for by sending a virtual hug out to the city.
According to a Hyatt spokesperson, the in-house tailor at the Hyatt Regency Bali is making up to 55 masks a day to donate the staff and communities who need them. Staff also showed their appreciation to medical workers by delivering jars of cookies and thank you notes to the hardworking doctors and nurses of Sanglah Hospital.
Want to help? According to Hyatt's website, contributions to the Hyatt Care Fund will support colleagues who are facing financial hardship due to COVID-19. This effort will focus on supporting colleagues with the most pressing financial needs— from rent and utility payments to groceries and medical assistance.
No matter who you have in mind when you decide to give, know that your contribution will make a world of difference during these uncertain times.
This article was featured in JustLuxe on April 22, 2020.