When award winning celebrity chef Wolfgang Puck opened Spago Beverly Hills, it not only became a local favorite fine dining restaurant, but also for visitors and tourists.
When the restaurant closed due to city and state Covid-19 mandates in mid-March, Puck and his team creatively started a takeout and delivery service.
Since the health of the staff and customers is the top most priority at Spago Beverly Hills, they trained the staff to follow strict health guidelines. Staff prepared for the day when their guests were allowed to return to dine-in.  Recently with city and staff gave approval Spago Beverly Hills opened its dining room and expanded outdoor patio with the following protocols implemented:
Guests must make a reservation for lunch or dinner before arrival. To make the Spago experience during this transitional time safe and healthy for all, the staff has daily wellness and temperature checks, plus weekly COVID testing.
When a diner arrives at Spago Beverly Hills, they will receive an aromatic spritz from Spago's housemade Manhattan hand sanitizer upon arrival. They also will be handed a Spago 'Stash Your Mask' bag, so they have a clean place to store their mask when sipping a cocktail and enjoying a meal.
Next, they will be asked a few simple health questions and have a quick infrared temperature check reading before they sit at their reserved table. Coat and Bag Check has been temporarily suspended.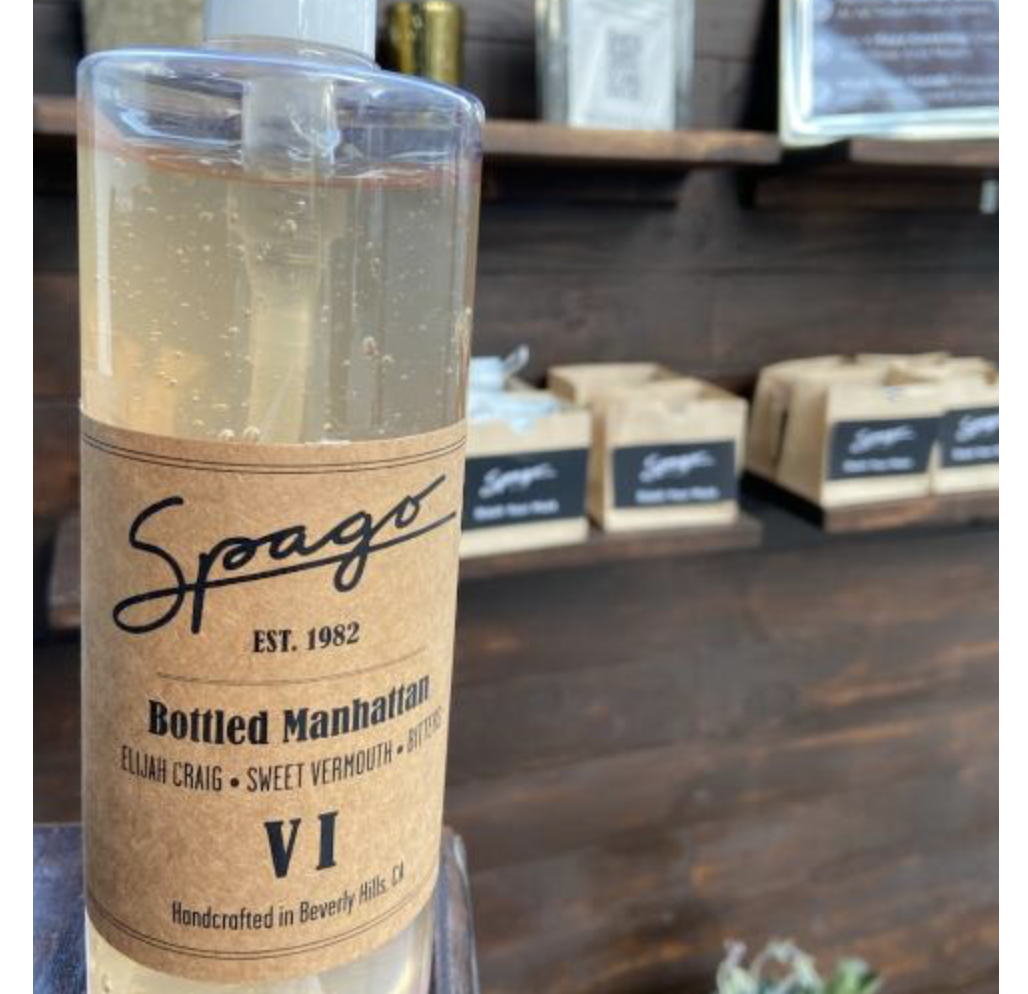 To promote a rigorous sparkling clean sanitation regime, staff are required to wear face masks, gloves and face shields. Spago Beverly Hills asks all guests to wear face before being seated at their table, and when they use the restroom or leave the restaurant.
Diners will find improved service steps that include paper sleeves to protect flatware and napkins, tableside wine pours, virtual menus viewed via smartphone, and contactless payment coming soon.
The restaurant offers additional handwashing and sanitation stations, and distancing floor markings to promote servers and guests to maintain social distancing of at least 6 feet.
Health guidelines require Spago Beverly Hills to temporarily discontinue outside wine, food, décor or other items to be brought into the restaurant.
The current hours for dine-in include lunch on Friday and Saturday from noon to 2 p.m. Dinner service is offered from 5:30 to 9 p.m., on Wednesday through Sunday. Take-out and delivery is also still available from Wednesday through Sunday.
This review was also featured in JustLuxe.