GRAMMY award winning singer, songwriter and television personality, Kelly Clarkson walked onboard the Norwegian Cruise Line Prima on October 27, 2022, while the newest NCL Class ship was docked in Clarkson's homestate of Texas.
She was invited by NCL to perform an intimate concert to honor 100 deserving school teachers who were entered in Norwegian's Giving Joy campaign. Norwegian Cruise Line recogonize teachers for their patience, respect, understanding and meaningful work they do each day while working in their classroom. These teachers were invited on an all-expense paid 5-day cruise leaving from Galveston, TX to Merida, Mexico. Not only did they win a balcony stateroom, every teacher received a AMEX gift card sponsored by American Express.
This year, Norwegian's Giving Joy received thousands of impressive nominations of teachers all across North America. The winners with the most votes are from Arizona, Arkansas, California, Colorado, Connecticut, Florida, Georgia, Illinois, Indiana, Kentucky, Maine, Maryland, Massachusetts, Michigan, Mississippi, Nebraska, Nevada, New Jersey, New York, North Carolina, Ohio, Oregon, Pennsylvania, Puerto Rico, Rhode Island, South Carolina, Tennessee and Texas in the U.S., as well as British Columbia and Ontario, Canada.
Wearing a black and white dress and shiny black boots, American Idol winner and sweetheart Kelly Clarkson rocked the Prima Theater with her 8 person band. She is familiar with the team at Norwegian Cruise Line, as she was selected Godmother of the Norwegian Encore in 2019.
Since Clarkson's mother is a school teacher, she has the deepest respect and admiration for some of the most deserving teachers in North America. These educations bring unwavering commitment and joy to their classroom, while motivating their students to be the best they can be.
Before the show-stopping award celebration, NCL President and CEO Harry Sommer and Norwegian Bliss Godfather Elvis Duran, American radio personality and host of 'Elvis Duran and the Morning Show' welcomed each teacher and their guest.
Once Clarkson stepped out, she proved to everyone why she is a superstar with a golden voice, while singing all of her chart-topping hits including 'Miss Independent,' 'Catch My Breath,' and 'Since You've Been Gone.' She closed the over one hour show with one of her favorite songs 'Stronger.'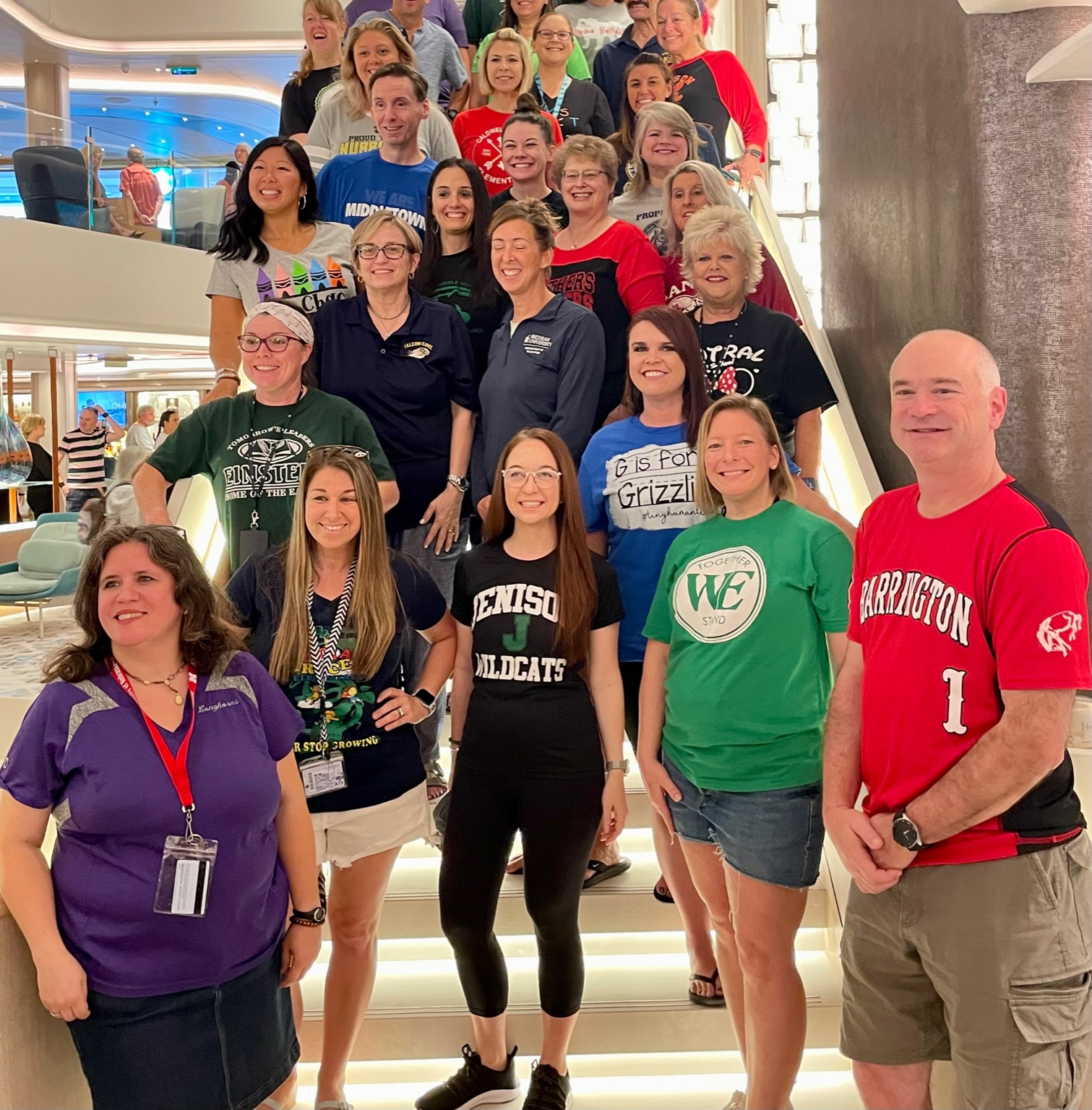 Award winning teachers onboard Norwegian Prima – Photo Jill Weinlein
After the Norwegian's Giving Joy Award ceremony, Sommer and Christine De Silva, NCL SVP Global Branding and invited the the top three Grand Prize winning teachers to a private ceremony with Clarkson. These teachers were nominated during Teacher Appreciation Week (May 2 – 6, 2022) and received the most votes. Besides a cruise of a lifetime, teachers Patricia Hosmer from Bayonne High School in Bayonne, N.J. received $25,000 for her school. Theresa Schrager from Falcon Cove Middle School, Fla. received $15,000, and Anthony Stirpe from New Rochelle High School in New Rochelle, N.Y. received $10,000.
Each of the Grand Prize winners received a big surprise – nearly $40,000 each in extra prize money thanks to Norwegian Cruise Line partners, who were moved by the ethos of Norwegian's Giving Joy annual teacher recognition program. These generous partners include Moet& Hennessy and other suppliers for NCL.
Photo by Jill Weinlein
Before Clarkson and her band left the ship, she requested a Prima Speedway experience. Eight people put on a cotton black cap, pulled their loose hair up inside and were fitted with a helmet after watching a safety video. The Norwegian Prima is the first ship at sea to have a three-level race track with electric cars that speed around turns and take a straightaway at 30 MPH. Clarkson and her crew laughed as they passed one another seeking a first place win.
Before the ship set sail away from Galveston to the Gulf of Mexico, Sommer's stated that the ship will return to Galveston next winter 2023/2024. To learn about Norwegian Cruise Lines award winning ships, visit NCL.
This article was also featured in JustLuxe.