Earth Month in April is the time to highlight California, Oregon and South Africa's sustainable wines. Since California is the world's fourth-largest wine-producing region, it is a global leader in sustainable wine-growing, with 36 Green Medal-winning wine producers, and certified-sustainable wineries and vineyards. California can proudly tout that 80% 0f the wines made in the Golden State are California certified under the California Sustainable Winegrowing Alliance (CSWA). Wine enthusiasts can enjoy drinking responsibly in a whole new way when traveling throughout the state sipping wines. Here is a list of eco-focused events, festivals, tastings and activities taking place all month long.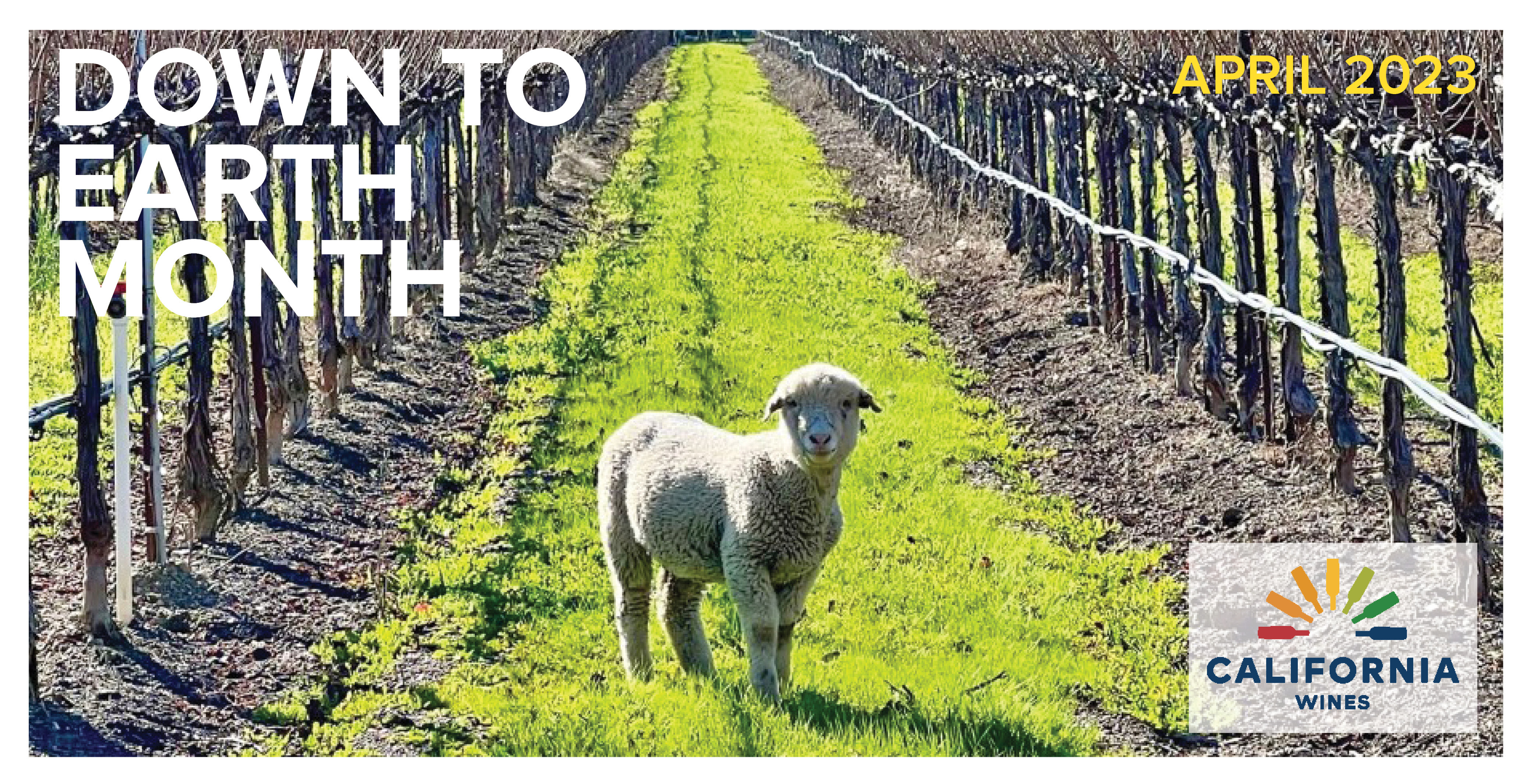 California Wines is kicking off "Down to Earth" starting on April 1, to provide consumers with the latest information and engaging experiences around California's premier sustainability efforts. This month-long celebration highlights the Golden State wine community and commitment to sustainable viticulture and winemaking through environmental stewardship, social equity and community engagement.
"California has seen a 118% increase in certified sustainable vineyards over the past five years," said Robert P. Koch, president and CEO of Wine Institute. "After two decades of hard work, our member wineries are recognized around the world as leaders in sustainability. April is the perfect time to support California wineries with one of the earth-friendly experiences or a celebratory glass of their wine."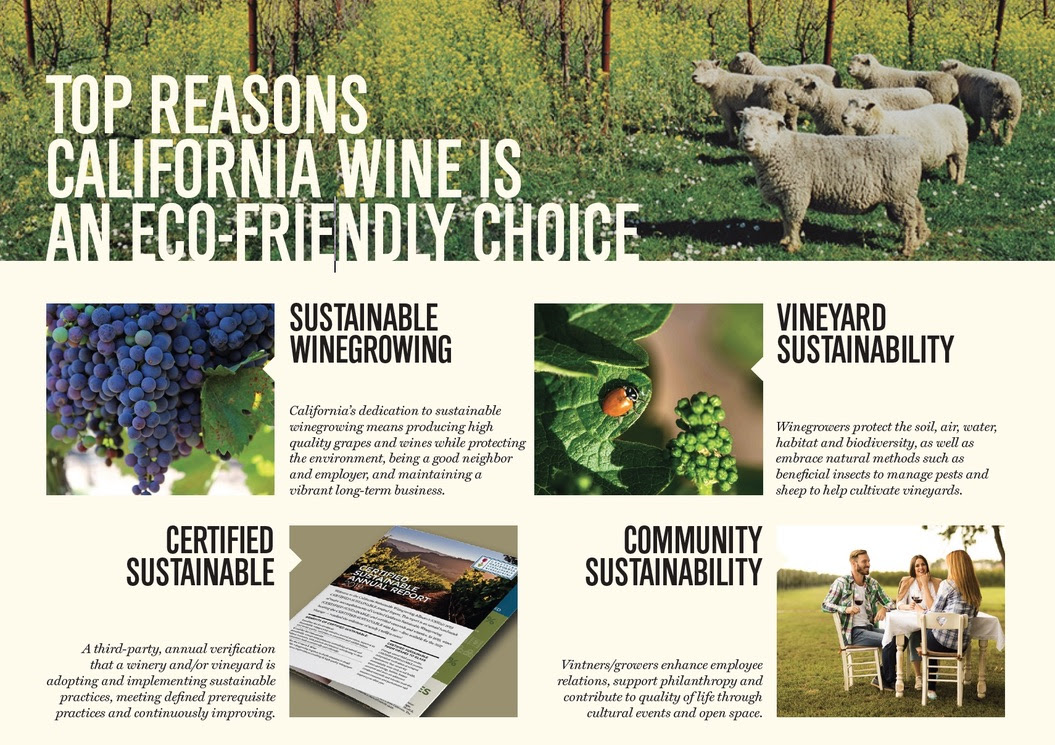 Here's a guide to celebrate Earth Month in April and sustainability throughout 2023 and beyond.
NORTHERN CALIFORNIA
April 1: Calistoga Wine & Culinary Experience
Join more than 30 Calistoga appellation wineries and eight restaurants at the Four Seasons Resort & Residences in Calistoga for an afternoon from 1 to 4 p.m., that includes local bites and fine wines for $250 a ticket. Throughout the year there are numerous wine tasting dinners and events at this property.
All Year In Napa Valley visit Beringer to experiences wine tasting opportunities Monday through Sunday. Reservations are recommended, and walk-ins are welcome based on availability. Sustainability includes the largest solar installation of any winery in California. Beringer is certified under the Napa Green Winery and Napa Green Certified Land Programs as well as the California Sustainable Winegrowing program. To protect waterways, all of the owned and leased vineyards are certified by Fish Friendly Farming. Be sure to taste Beringer Vineyards 2020 Private Reserve Napa Valley Chardonnay layers of rich, creamy, and complex bouquet and nuances. This classic California Chardonnay offers expressive aromas of citrus blossom, jasmine, and lemon curd, supported by tropical ripe flavors of white nectarine, peach, and grilled pineapple. The well-integrated oak shows notes of brioche, vanilla, and ginger spice, leading to a long, mouth-watering finish with freshness and minerality. Purchase one for to gift yourself or your mother on Mother's Day. SRP $50.
"Reducing, reusing and recycling is the business practices implemented at J Vineyards & Winery. They recycle all paper, corks and glass. They reduce water used throughout the wine growing and wine making process. Installing computerization of refrigeration compressors helps reduce energy consumption, and replacing inefficient incandescent lights with lower energy lighting. One of their top sellers is J Cuvée 20 Brut. It opens with subtle aromas of toasted almond, followed by notes of ripe apple, dried cranberry and ginger snap. Delicate bubbles provide a soft flavors of creaminess with a hint of lemon on the lively finish. J Vineyards & Winery, specializes in Russian River Valley sparkling and varietal wines, and has achieved certified sustainable status through the California Sustainable Winegrowers Alliance (CSWA). The sustainable certification covers all vineyard and winery operations. Located south of Healdsburg, the estate vineyards have the latest techniques in water conservation, corridors for wildlife habitat to provide integrated pest management, and reduction in soil. According to winemaker Nicole Hitchcock at J Vineyards & Winery, "Wine is like a universal language. It can transcend physical and cultural boundaries, and ultimately brings people together," Nicole explains in an interview. "From early on, I was enamored by all parts of the industry and process — the journey from vine to glass, the varying tastes and the cultural aspects."
2023 El Dorado Passport to the Great Out There
SIERRA FOOTHILLS
April 22-23: El Dorado Passport to the Great Out There
Get access to more than 20 participating wineries across El Dorado County, where many producers are committed to sustainable growing and winemaking practices. Hours are 10 a.m. to 5 p.m. Tickets are $45 to $75.
CENTRAL COAST
April 30: Wines of the Santa Cruz Mountains Grand Tasting
Join more than 40 Santa Cruz Mountains vintners at the Mountain Winery in Saratoga for a tasting featuring dozens of sustainably produced wines from 12:30 to 4 p.m. Tickets range from $25 to $170.
Paso Robles
Riboli Family Wines of San Antonio Winery has five vineyards in Paso Robles and four vineyards in Monterey that are sustainably certified by the California Sustainable Winegrowing Alliance (CSWA). With over a century of winemaking experience, this winery is constantly looking for ways to improve their winemaking to ensure the highest wine quality and long-term sustainability. Its vineyards and winemaking facilities were built with sustainability a priority at the outset. "The newer Paso Robles location has 1,520 solar panels that cover 80% of the roof and provide 100% of the electricity for the facility. Their wastewater treatment plant reuses wastewater for landscaping. They have a night cooling system in which the refrigerated barrel room turns off the electricity when the outside air drops below its set temperature. They also installed double tinted windows and shades to help prevent heat absorption and keep it cooler so the air conditioning doesn't run all the time," said Riboli Family Wines Sommelier Dominic Menton.
SOUTHERN CALIFORNIA
April 14-15: California Wine Festival –
The Sunset Rare & Reserve Tasting is at Laguna Cliffs Marriott Resort & Spa in Dana Point. It begins on Friday, April 14 from 6:30 to 9:30 p.m. Sample selections from dozens of California wineries at the two-day event. The next day on Saturday, from 1 to 4 p.m. (12 p.m. for VIP ticket holders) a larger venue at Sea Terrace Park offers a Beachside Wine Festival. Tickets are $75 to $125.
Los Angeles
Riboli Family Wines of San Antonio is the only winery in Los Angeles that has been in business for 103 years and continues to operate its original winery based out of Downtown Los Angeles. They recently added 1917 Wine Bar + Bistro for culinary and wine tasting experiences on their new al fresco dining terrace. Every week there are classes and experiences to educate and enlighten guests about their wines and sustainable wine making process.
Beyond California are two other wineries that are making a difference in eco-friendly wine making practices.
OREGON
Duck Pond Cellars Great Oregon Wine Co., has Certified Path on their bottles label. This winery is the first in the U.S. to earn the Natural Path Production Certification, a Clean Label Project program. Duck Pond is also one of a very few U.S. wineries that is already labeling its bottles with ingredients information. Winemaker Julia Cattrall is committed to craft the purest, most natural wines showcasing their exquisite flavors of the Oregon terrier. Grapes are harvested while growing in nutrient-rich volcanic and sedimentary soil.
Duck Pond wines embody and reflect a commitment to farming sustainably and organically to further their mission in leaving the world a better place than we found it. Duck Pond is known especially for its Pinot Noir and Pinot Gris, that are free of harmful glyphosate and neonicotinoid pesticides. The company closely oversees its grapes growing so those who drink their wines enjoy the great-tasting ingredients in each bottle. Besides making Pinot Noir, Pinot Gris, they also make a Rose' and Chardonnay. (SRP $14.99).
SOUTH AFRICA
Steenberg Farm Estate Vineyards are all dry farmed, and the winery is Certified Sustainable. Steenberg is the oldest registered farm in South Africa, established in 1682. It is one of only six wineries on the Sauvignon Blanc Route, a wine route dedicated to Constantia's chosen noble grape. The farm was established by Catharina Ras, and winemaker Elunda Basson continues the legacy of strong female leaders at Steenberg over the last three centuries. Their Sauvignon Blanc comprises 70% of Steenberg's planted acreage. The sparkling Sauvignon Blanc is made with a secondary fermentation in-bottle (like Champagne) and is disgorged after three months. It's fun, fruity and offers complex aromas of passionfruit, lime, pineapple and guava. It's dry with a vibrant of Sauvignon Blanc. Pair this with brunch favorites, as well as goat cheese, smoked salmon, grilled asparagus, and sushi. This wine retails around $20.
Cheers to these winemakers who are making a different in climate change during Earth Day and every day after.
This review was featured in Luxe Beat Magazine – https://luxebeatmag.com/sustainable-sips-during-earth-day-and-beyond/.