2018 RUMOR Cotes de Provencé Rosé is masterfully blended with Grenache, Cinsault and Syrah grapes. After a 25+ year career in the finance industry, Barry Bayat delved into the world of wine. He traveled overseas in the heart of rose' country – Provencé and joined forces with the highly-regarded Commanderie de Peyrassol. Founded in the 13th century, this domaine has been producing the finest grapes in the region for over 750 years.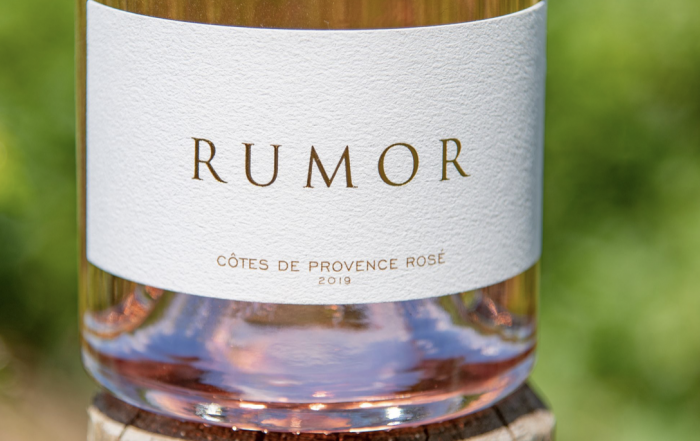 Tasting Notes: It's a dry, not too sweet pink Rose' wine, offering a pleasing burst of fruit and citrus, with slight minerality and a rich, well rounded finish. It's not as heavy as a red or as light as a white.
Availability & Price: After a delay in product due to COVID-19, RUMOR Rose' has finally landed in the US, following much success overseas. Bottles and by the glass are available at The Beverly Hills Hotel, Craig's, Malibu Beach Inn, The Henry, and Olivetta. Wally's Wine + Spirits President Christian Navarro's posted a photo on Instagram of himself holding a magnum of RUMOR Rose' touting, 'one of the best Rose's in the world.' Rumor has been one of Wally's top selling rosés this summer. At Wally's $35 750mL bottle, and $79 1.5L.
2. The Avaline Rosé was created by actress and wellness author Cameron Diaz with her friend Katherine Power (founder of Who What Wear and Versed Skincare). Together in 2018, they set out to make a clean, vegan wine. They interviewed winemakers in France who use grapes growing in certified-organic vineyards and never use toxic pesticides. Once the grapes are picked and during production, these winemakers use as few ingredients as possible to produce a clean, vegan rose' wine.
Tasting Notes: a light French wine made with Grenache, Cinsault, Caladoc, Syrah & Cabernet Sauvignon grapes. Offering notes of refreshing citrus and fruity melon with an ABV 13%.
Availability & Price: Available at retailers nationwide at around $24 a bottle.
3. Domaine Houchart Cotes De Provence Rose won TOP 100 BEST BUYS award in 2018 & 2019. The Domain Houchart is a 200-acre estate with 10 grape varieties located in Provence at the foot of Mount St. Victoire. The estate produces 55% rose', 40% red and 5% white wines. This Rose' is made from Grenache, Syrah, Cabernet and Tibouren grapes. Red grapes are juiced and left to soak (macerate) with their skins for a day or two until the juice turns a subtle pink color.
Tasting Notes: Beautiful salmon color highlights, with hints of red berry and strawberry flavors. Notes of pear and peach, with a touch of goji berry and grapefruit give this wine an extra flair. With a low to medium alcohol level of ABV 13.5%, this Rose' is wonderfully perfumy to the nose, offers bright acidity, and refreshing blast of red berry flavors.
Availability & Price: The Domaine Houchart Cotes de Provence Rouge is around $12 to $15 a bottle. Imported by USA Wine Imports, David Milligan Selections.
4. Chandon Sparkling Rose' offers a pretty rose petal color by winemaker Pauline Lhote's keeping contact with red grape skins longer in the process. This Rosé is primarily made from Chardonnay with a little Pinot Noir red wine blended in to give it its signature flavors and beautiful shade of pink.
Tasting Notes: This dry sparkling Rose' displays a hint of fruity cherry, strawberry and refreshing watermelon aroma and flavor profile.
Availability & Price: Available by the bottle at $24, and a case of 12 bottles for $288. Also by the magnum and aluminum minis.
5. Miraval Rosé is another wine from Côtes de Provence, France. This Rose' is from Brad Pitt and Angelina Jolie with the Perrins, one of the leading wine producing families in France. The Perrin family of the Rhône's Château de Beaucastel manage the winemaking, using Grenache & Rolle grapes. This wine is vinified in egg-shape concrete tanks to produce a long-aging Rosé wine. They are about to reveal a champagne from the Miraval Estate.
Tasting Notes: Aromatic expression of fruit and flowers with a slight strawberry finish.
Availability & Price: At Total Wine & More you can pick up a bottle for around $20 or have it delivered to your front door.