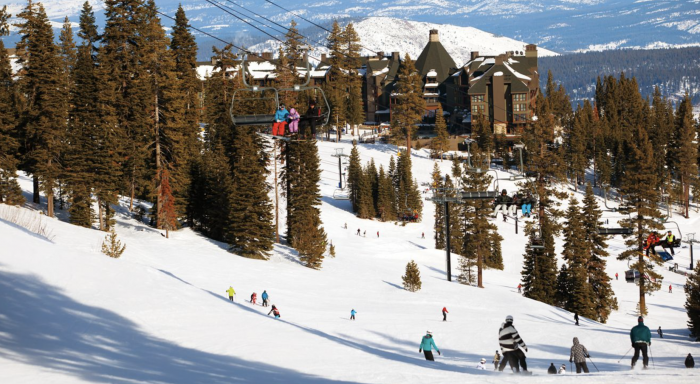 The Ritz Carlton, Lake Tahoe
For the ultimate couples and family holiday getaway, The Ritz Carlton, San Francisco and The Ritz Carlton, Lake Tahoe are offering a luxurious city and mountain vacation.
This exclusive curated City to Slopes package appeals to those seeking the finer things in life. Starting on November 19, 2021 to March 31, 2022, start the four-days with an extravagant shopping spree for holiday or wish-list items. Afterwards attend a private wine and caviar tasting at JCB Tasting Salon, and visit to the Krigler boutique. There are tickets to an exciting evening show and transportation the next day to the airport to fly on a private jet to Lake Tahoe's winter wonderland.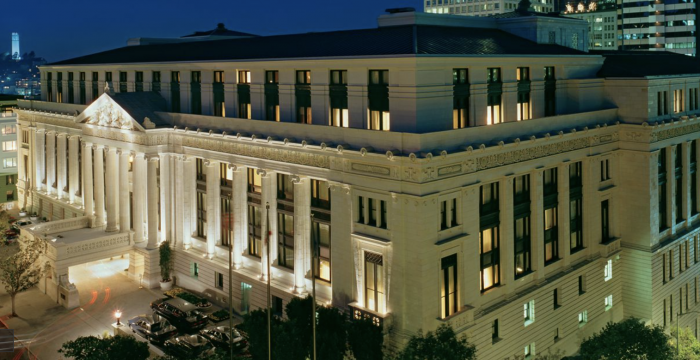 The Ritz Carlton, San Francisco
The Ritz Carlton, San Francisco is one of the most luxurious hotels, earning the only AAA Five Diamond in the city. Located just steps from the iconic California Street Cable Car with convenient access to Fisherman's Wharf, Chinatown, Lombard Street and Coit Tower, guests will enjoy seeing the holiday store displays and festive atmosphere.
Joel Costa, Director of Sales and Marketing at The Ritz Carlton, San Francisco was instrumental in creating this one-of-a-kind travel package. "We're pleased to present our guests with this exclusive winter experience in two iconic Northern California destinations," said Costa. "After 18-months of pent-up travel demand, this package is the ultimate way to kick-start the winter travel season with VIP experiences from the San Francisco Bay to the Sierra Nevada mountains."
Guests receive an elegantly appointed Club Level guestroom and all-inclusive dining opportunities including breakfast, lunch, afternoon tea, dinner, cocktails, wine, beer and dessert.
Start one of the days with a private shopping experience for two at Saks Fifth Avenue. Come back to the hotel for a private JCB Salon multi-sensory experience. Learn about the legendary winemaker, while tasting his wines, wearing his fragrance and jewelry, and sipping from his Passion Baccarat crystal collection.
Be sure to step into the elegant Krigler shop next door to receive a limited edition Good Fir 11 Krigler holiday candle. This particular fragrant candle was inspired by founder Albert Krigler when he made his journey to California.
During the evening, guests will receive two tickets to the entertaining "Dear San Francisco," a high-flying acrobatics show at Club Fugazi.
The next morning a luxury car awaits to transport guests to San Francisco International Airport (SFO). Board one of the private Surf Air jets, the first private air travel club of its kind, for a short flight to the majestic slopes.

The Ritz Carlton, Lake Tahoe
Upon landing, a luxury car will transport guests from Truckee Tahoe Airport to The Ritz-Carlton, Lake Tahoe. This contemporary AAA Five Diamond mountain retreat sits among the snow-clad mountains at Northstar California Resort. It's a stunning winter wonderland and ultimate skiing getaway featuring convenient slope-side, ski-in and ski-out access. An inter-mountain gondola connects the resort to the nearby Village at Northstar.
There are 170 guest rooms and 23 private Ritz-Carlton Residences. Guests have access to the 17,000 square foot spa and fitness center.
According to Laurie Munos, Director of Sales and Marketing at The Ritz Carlton, Lake Tahoe, "This winter season, The Ritz-Carlton, Lake Tahoe is thrilled to offer guests an over-the-top package allowing them to experience the many luxuries of Lake Tahoe as well as our neighboring city San Francisco."
Receive keys to a beautifully decorated Club Level guestroom, and two lift tickets await to be redeemed at Northstar California resort, plus premium ski or snowboard rentals for two. Guests can also participate in private ski or snowboard lessons for two and receive a $500 credit to the True North boutique for ski or snowboard gear.
Later in the evening dress for a private Chef's Table Experience at Manzanita, the resort's signature restaurant. Other dining venues include The Backyard Bar & BBQ, The Living Room, Café Blue for luxe après ski culinary delights.
The City to Slopes package at The Ritz-Carlton, San Francisco, and The Ritz-Carlton, Lake Tahoe must be reserved 14-days in advance. The all-inclusive rate begins at $25,000 for two. Call (800)241-3333.  
This review was featured in JustLuxe – November 2021.