Audi
Driving an Audi e-tron infused with the same Audi DNA performance and handling as their fuel cars, is even more thrilling at every turn. The luxury fully-electric Audi e-tron models have a quicker pick up. Just step on the pedal and go from 0 to 60 in less than 5.5 seconds.
Equipped with an e-quattro all-wheel drive system, the intelligent technology and advanced charging capabilities make this one of the most innovative and sustainable electric automobiles in the world.
Engineered for stability, the core of the Audi e-tron is it's 95 kWh battery with a range of up to 205 miles. That is a greater range than other luxury electric vehicles including the Tesla Model X and Jaguar 1-Pace. This special battery is covered for 8 years or 100,000 miles with a limited warranty. The Audi e-tron can plug into any public charging station with a Combined Charging System (CCS) Charger, including Electrify America's fast charging network.
Inside the elegant four-door coupe is a sleek panoramic view roof, comfortable soft black leather upholstery with heated and cooling features inside the adjustable front seats. Audi's cockpit offers not one but two center large screen digital displays. The Select Drive adjusts the drivetrain, steering and suspension to your favorite driving preference. From efficiency to comfort, dynamic to individual, drivers have the option with the touch of a button. Another benefit of the e-tron is Audi drivers will never have to visit a gas station for fuel, get their car smog certified, or maintain the car with oil changes and tune ups.
The integrated system of sensors and cameras are part of the driver assistance capabilities to keep drivers and passengers safer on the road. The quad-zone automatic climate control keeps the temperature idyllic while driving and the keyless entry provides ease and convenience.
This muscle car design offers adaptive air suspension, 20-inch wheels and a hands-free liftgate. The only negative I found was that Audi doesn't provide one-pedal regenerative driving yet.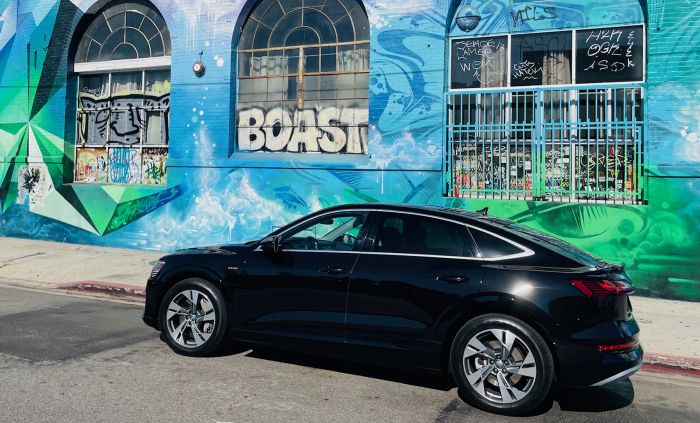 Jill Weinlein
Since transportation is the number one source of climate pollution in the United States, Audi is committed to offering an American model line that is 30 percent electric by 2025. For a more sustainable future, Audi's goal is to reduce net CO2 emissions by 30 percent. Also, Audi production facilities around the globe are planned to be certified net carbon-neutral.
The e-tron is Audi's first all-electric production model. To celebrate, Audi has collaborated with local restaurants and businesses committed to sustainability. The Audi City Guides are a curated list of diverse and dedicated eco-entrepreneurs, restaurants, and designers making an impact in their city through their innovative sustainable practices. The list includes Keys to Los Angeles and Keys to New York.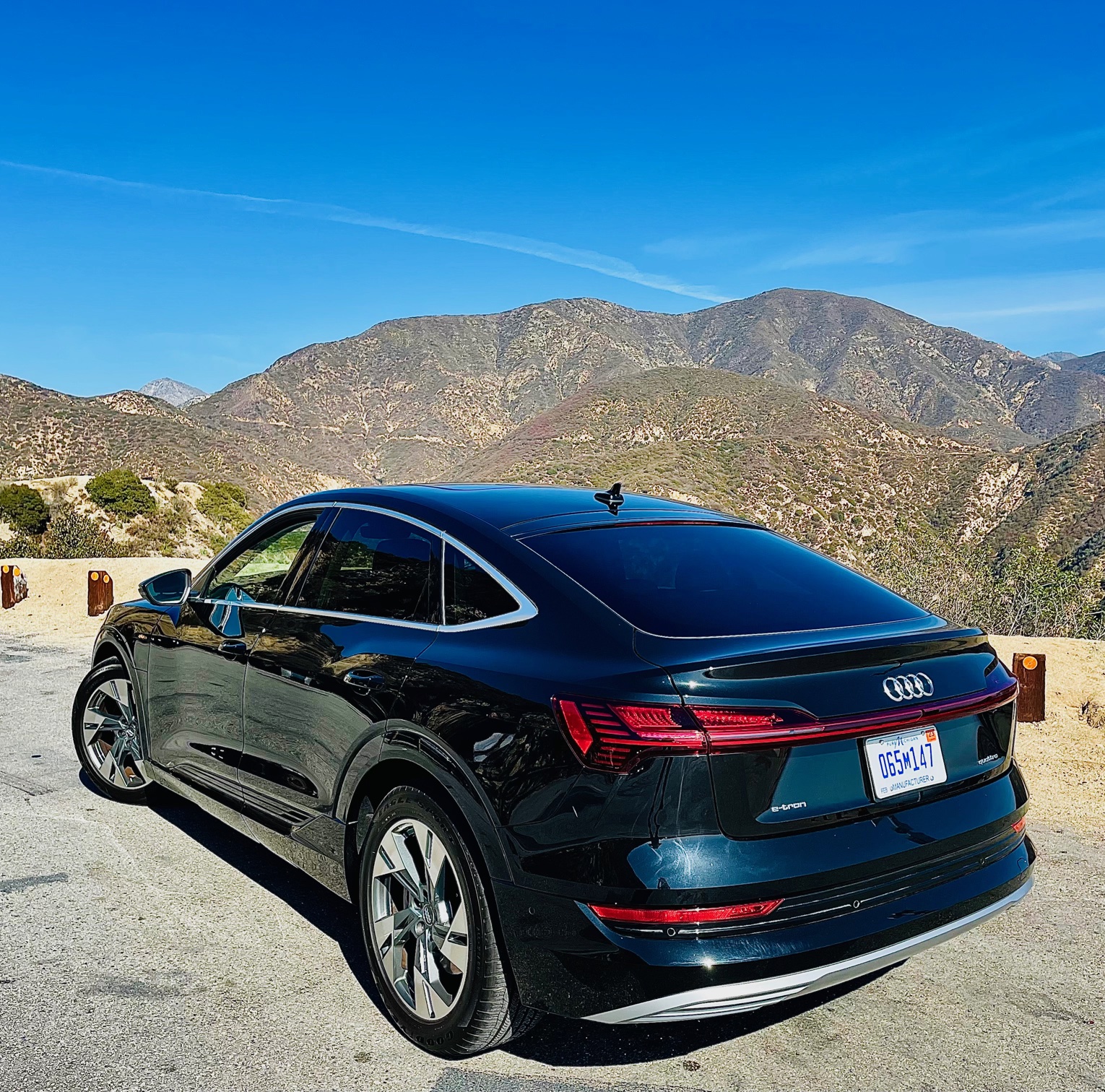 Jill Weinlein
An individual who purchases an Audi e-tron may be eligible for a federal tax credit of up to $7,500. Additional state and local incentives may also be available. The list price is comparable to other luxury electric automobiles starting under $70,000.
This article is featured in JustLuxe October 2021.